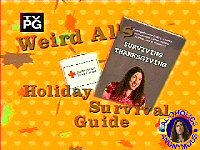 Since the holidays are essentially upon us, it's time to give back a little. That's why Al-oholics Anonymous is giving you, not one…not two…not THREE…but FOUR…FOUR new video clips to the site! WHOA! Here's what's just been added to the archives:
Weird Al gets down and polkas with Frankie Yankovic (no relation) from the 1986 special "Weird Al's Guide to the Grammys".
Weird Al interviews R.E.M's Michael Stipe from the Al-Tv in 1999.
Al presents the Sexiest Video award from the My Vh1 Awards back in 2000. Al used this during his Poodle Hat tour.
The collection of Holiday Survival Guide from this years "I Love the Holidays" special on VH1.
WOW! That's great! And there may even be a few MORE clips added before the end of the year. Happy Holidays!
Oh, and in case you missed Al's voice over appearances on "The Grim Adventures of Billy And Mandy" the episode Nigel Planter and the Chamber Pot of Secrets will air on Wednesday morning at 8:00AM EST and One Crazy Summoner will air on Sunday Dec 4th at 2:30pm EST. Both will air on Cartoon Network and as always, check your local listings before you go setting your Tivo or VCR.