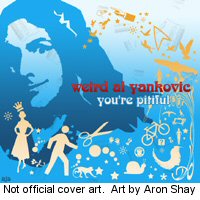 You've been hudled in the dark, drooling all over yourself, avoiding showers just waiting…WAITING for the new Weird Al album to come out. Well, we still don't know when the album will be out, but the friendly folks over at WeirdAl.Com (which means probably Al himself, via Bermuda) has posted a song for you to download. Ab-so-freakin-loutly for FREE. That's right. FREE. GO! GO! GO! NOW! NOW! NOW! GET IT! GET IT! GET IT! The official post looks like this:
HEY!
How would you like to download a brand new Weird Al song… for free? Yeah, we thought you might. Right-click here (ctrl-click for MAC) and select "save target as" (or "download linked file" for MAC). Don't say we never gave you anything!
Hopefully that will be enough to whet your appetite to convince you to take a shower now. You're pretty ripe. Oof. If you don't get this RIGHT NOW, you're pitiful!
UPDATE on 6/8: Wow, you people are insane! You're completely taking down the server. Luckily, Al-oholics Anonymous and We've Got It All On UHF have been given authorization to mirror the song. If it's too slow from WeirdAl.com then try here or here or here or here or here or here or even here.