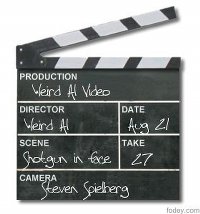 Holy cow, you might be an extra in Weird Al's next video!
We're shooting a music video this month, and we need a few extras. The only 3 requirements are: 1) You must live in the greater Los Angeles area, 2) You must be between 18 and 24 years old, and 3) You must not mind working for FREE.
Aw man, I don't qualify for 1 or 2, but YOU might! Check out the link above and be on your way to mega stardom overnight!