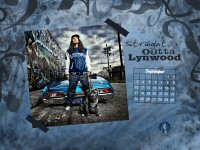 Last month, we asked you to get creative and create a calendar entry based on the cover art for Al's new album,
Straight Outta Lynwood
, in stores on September 26th. There were a lot of great entries but ultimately only one could be chosen. Three time calendar submitter, Kristine Slipson gave us the cover on a nice artistic background that you should be PROUD to put on your computer RIGHT NOW. DO IT! Now in 1600×1200 goodness! After you are done admiring it, and pre-ordering your copy of
Straight Outta Lynwood
, why not see if you can create something for October. Hey, ya know it's been a LONG while since anyone has submitted something of "Weird Al" in concert, a group shot with Jon, Jim, Steve and Ruben, and of course, October brings falling leaves and Halloween. There's lots of ideas to work with and there will probably be some promotional material for the album that you might be able to get your greasy little paws on and work with. All you need are
the rules for submitting a calendar.
You'll just need the
October calendar
and
site logo
. Due to the timing of the album, the entries deadline will again be extended. You can submit entries up until September 29th.  If you need a FREE image and photo editor that can save in Photoshop format, try using
GIMP.